Spring, Summer, and even Fall are coming up fast!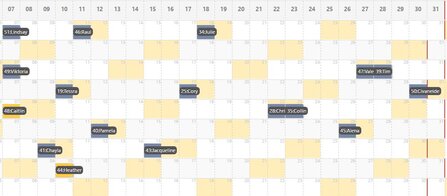 Statistics from WeddingWire.com last November indicated that Officiants are almost the last to be hired as a necessary vendor in the wedding ceremony planning process. That may have been true in 2016, as I received dozens of requests during July, August, and September and was able to accommodate those clients for the most part.
But this year seems to be different. People are planning their weddings earlier and requesting officiants much earlier in the planning process than I've experienced before.
The graphic above, with March on top and November on the bottom, shows the number of bookings for which I have confirmed dates with paid deposits for the rest of the coming year. By my count, there are fifteen on the books already. What is more interesting, though, is the increase in the number of requests that I've experienced over the last week or so.
I have had to turn down three requests each for June 10th and June 17th, two on July 7th, three each for August 12th and 26th, and another for September 9th. Those seem to really be the most popular dates coming up.
I hate turning people down when I'm already booked, but when I am booked for a date, time, and venue I honor those commitments. And I feel sorry for the folks I'm unable to serve because, frankly, I love marrying people! So if you are planning to wed in the next 6-8 months, I suggest that you select your officiant once you've secured your venue, rather than waiting until the last minute. That way you can avoid disappointment by having to settle for someone who would not be your first choice.
There are literally hundreds of checklists, many in previous posts on my blog, that can help you with your wedding planning needs. Please take advantage of these resources and remember: If you fail to plan, you may be planning to fail! You don't want to subject yourself to any more last minute stresses than you need to, so proper planning and early hiring are critical to accomplishing that.
If you have any questions at all about scripts, vows, rehearsals, or other ceremony elements, I'm available by phone, email, or live video chat on multiple platforms. Have a wonderful ceremony!
Happy Wedding Planning
Jon Turino
(503) 877-4609
Are you looking for a Wedding Officiant or Wedding Minister in Portland Oregon? I also perform wedding ceremonies in Vancouver!
Tell me more about your wedding ceremony plans, what you need, what you want, what you desire. It's YOUR SPECIAL DAY and I can help you customize the perfect wedding ceremony – one you, your family, and friends will remember forever!
"Jon was amazing to work, he knows exactly what to do and just guides you though it all, we hired him in a very short notice situation and he was great!! Thank you, Jon, for an amazing ceremony!! The family and I loved it!" – Trina, WeddingWire Review
"We had a great experience hiring Jon! I initially chose him because he seemed unbiased that our wedding was an elopement. He was very helpful and caring in making sure the verbiage was just right. He responded quickly with all emails, came early, and was very professional. During the ceremony, he spoke loud and clear. He was very genuine in wishing us all the best. I would highly recommend Jon to officiate your special day!" – Lauren, Wedding Wire Review
Call me at (503) 877-4609 or drop me a line using THIS ONLINE FORM.